Awards to institutions, enterprises and local communities for outstanding professional or promotional achievements as well as for achievements related to the enrichment of one's own knowledge or the knowledge of others

The Municipality of Maribor




http://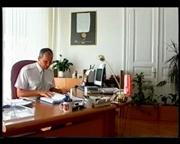 Among all Slovenian municipalities Maribor distinguishes itself as a city dedicating the largest per capita share of its budgetary finances to the education of adults. Such an attitude may be indeed supported by tradition, yet it is by no means to be taken for granted, since we are well aware that its local economy has experienced, after Slovenia's gaining its independence, a severe crisis, which they try to overcome by investing into knowledge. By co-financing educational programmes for its adult citizens the municipality is making possible that they are attended also by all those, who were not able to pay for tuition. Among these are primarily unemployed and young adults, who stand in need of new incentives and learning possibilities, which are to be supported by consulting and educational aid. This is, however, not provided only by the Andragogical Institute - LU Maribor, which is an institution with the longest adult education practice in the Podravje region but also the innovative private educational institute Doba, the private institute Pekarna (Bakery) with Infopeka, Academia AS Asistent, the Fund for the Development of Human Resources, Association of Engineers and Technicians and last but not least also the youthfully vigorous Youth Cultural Centre Maribor. And yet we mentioned only those select excellent examples. The mayor of Maribor Municipality Boris Sovič states that the severest crisis in the nineties was combated by measures of active employment policy, i.e. people were included into educational and vocational training and retraining programmes. These programmes were annually attended by more than 5,000 persons. Yet, educational tasks lying ahead are still numerous as the statistics for this year show that among the unemployed in the Maribor region the majority is represented by those who attended only primary school - frequently even not finishing it. We do not need education, however, solely for the purpose of acquiring a "better job" or for improved economical performance but first and foremost because of ourselves. New discoveries and positive learning experiences make people happier and for that reason the municipality of Maribor supports adult education, consulting programmes for the young, programmes of basic education for risk groups, programmes for personal development and increased successfulness in life as well as the festival orientated LLW, with which they promote learning as one of fundamental human values.

<< Back