Awards to groups for outstanding achievements in lifelong learning

The Art of Story Telling group

Head of group: Helena Ogorelec; members: Irena Balažic, Vida Lojzka Batič, Eni Humar, Tjaša Jeraj, Zdenka Pernarčič, Ksenija Poharc, Mihaela Skoberne, Maja Somer, Mojca Stegnar, Alenka Steindl, Ivanka Vertnik, Elizabeta Živkovič and expert mentor Asst. Prof. Dr. Tomaž Gubenšek
Proposer: Society for Education for the Third Age – University of the Third Age (UTA), Asst. Prof. Dr. Dušana Findeisen


http://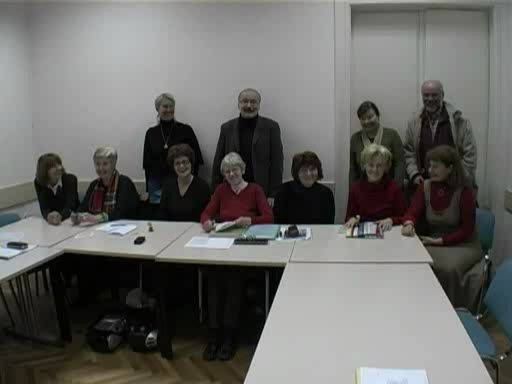 The fact that life in the third age can be interesting and full of joyful learning moments that bring additional satisfaction is something we can learn from members of the group The Art of Story Telling. The group members, who are of different ages, education levels and professions, started off by attending the University of the Third Age in Ljubljana, and soon discovered the joy of story telling and reading. This drew them into UTA courses, where at first they started learning independently, and then they began transferring their knowledge to people of all generations.
The group would not now be able to list its achievements, however, if the members had not succeeded in overcoming certain obstacles they encountered on their common path (there was fear of public performance, facing the truth, and copyrights needed to be respected), and especially if they had not persevered in learning. Indeed they are incessantly learning while listening to speakers, actors and others, and they are attentive to body language and voice modulation, they are learning from one another when they analyse their performances with the help of the mentor, they are interpreting artistic texts and strengthening their memory through learning by heart.
The Art of Story Telling group is joyfully using its knowledge for the good of others. The group is in fact performing voluntary work in schools, hospitals, companies and elsewhere, it is collaborating with students of adult education, is reading to partially-sighted persons and those with chronic illness (especially those who are immobile) and so forth. Through its activities it is contributing to the development of the profession and intergenerational cooperation (it has appeared twice at the Festival of the Third Age, and was featured in the newspaper Center Evropa), and is also participating in campaigns to raise awareness among young people about the destructive consequences of addiction. The work of the group is especially important, since it pursues not just its own satisfaction and motivation for learning among the group members, but also helps to overcome prejudices and fear of old age, and is building bridges between generations.
<< Back