Awards to groups for outstanding achievements in lifelong learning

Kapele Society for Rural Development




http://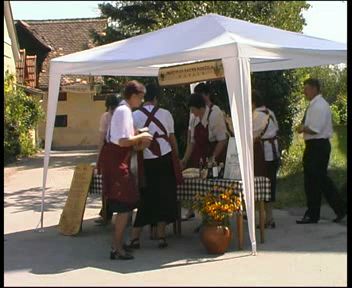 "When we try to escape our everyday problems, when we want to liberate our heart and soul, listen to the wind, the chirping of birds, the murmur of springs, we look for people who could accept us with a simple friendly word, with a glass of fragrant wine and home-cooked food. They have all of this in Kapele, and they have also learned how to provide it."
The Kapele Society for Rural Development combines the creative powers of seven villages on the edge of the municipality of Brežice. This part of the world has suffered heavy job losses in these times of change; young people with qualifications have left, and only those with no skills stayed at home. The solution was obvious; all that was missing was someone to take the first step. It finally became clear that progress could only be made together, following the principle: Do what you can, with what you have, where you are! A society was founded dedicated to the development of tourism, small business and enterprise in agriculture. The society pursued modern approaches to rural revival, and achieved its first successes in preserving the natural and cultural heritage and raising living standards. The most valuable finding was that people could change their circumstances - including the lack of development - to their own benefit. Of course, they still had to continue learning. In two years, the society has had a total of 8,000 hours of theoretical and practical training, has provided a standing advisory service, and has provided opportunities for exchanges of knowledge and experience through its own workshops. The society organises exhibitions, ethnographic and cultural events, presentation activities, competitions and research camps. They have their own stall where they learn to market home-made goods. They have received 8 awards for the quality of their products (two gold, three silver and three bronze). One member was awarded a "handicraft product" badge, while eight local women decided to focus on tourism, and successfully completed a course for farm tourism activity providers.

<< Back