Awards to institutions, enterprises and local communities for outstanding professional or promotional achievements as well as for achievements related to the enrichment of one's own knowledge or the knowledge of others

The Scout Association of Slovenia




http://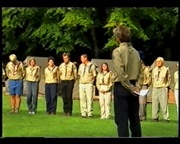 The Scout Association of Sloveniais operating in accordance with the principles of the international scout movement. It was founded 51 years ago and it numbers some 10,000 members organised in squads, families and groups. The youngest members are joining the scouts already in their pre-school years, whereas the focus of the organisation is on working with the school-attending adolescents. The scout tradition unites the upbringing, education and entertainment in the all-pervading companionship with nature. To such a starting point are related also the basic values, which are intertwined with all activities of Slovenian scouts: unison with nature, commitment to the culture of peace, freedom, cooperation and respect for the different, the respect for an individual and responsibility to the community. Slovenian Scout Association operates in accordance with the principle of experiential learning including self-education and passing the knowledge and skills to younger members. In his/her probation period each new member must pass the process of upbringing and education and afterwards he/she is expected to constantly upgrade the acquired knowledge. The responsibility for purposeful planning of upbringing and education is held by the special commission and its educational council. Besides the preparation of basic contents and verification of programmes for the training and education of leading personnel it also takes care of the execution of learning cycles in the domain of conducting and leadership, specialist knowledge, guiding and support. In the period from 1995 up to the present more than 3,000 attendants took part in its courses, seminars, ad workshops. Through the integration into international associations the scouts are learning also from foreign experience, whereas the members of scouts organisations from abroad are getting familiar with the culture and natural beauties of Slovenia. This year's 12th gathering of scouts in Tolmin was, for instance, attended by 100 guests from ten countries. Besides the high quality holiday get-together in the unspoiled nature all participants had a wonderful opportunity to get to know each other, exchange experiences and thus learn about peaceful coexistence and creative, intercultural cooperation.

<< Back