Awards to groups for outstanding achievements in lifelong learning

Study Circles at the Folk Highschool Slovenska Bistrica




http://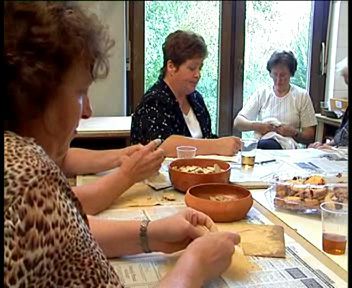 On the borders of Pohorje, Haloze and Dravinjske gorice people for a long time helplessly observed how all the traditional activities of potters, carpenters, wicker-workers, basket-makers, wooden shoe makers, embroidery makers... are vanishing away. That is until one day at the Folk Highschool Slovenska Bistrica the study circles were brought into life and triggered off the eventful intergenerational cooperation. The most successful study societies in the previous year were the We Live with You - the society intended for immigrants, their getting acquainted with each other and their conquering the obstacles in their integration into the environment, and the circle named Ornamental and Useful Objects in the Area of Slovenska Bistrica at Present and in the Past, the purpose of which is to revive some former handcrafts. In Slovenska Bistrica they were discovering their cultural heritage already during the previous years. The novelty introduced by the study circle led by Nada Milošič was in the working nature of the learning process: the members of the study circle were learning their skills directly, one from another. Thus, each one of them was once in the role of a teacher and afterwards in the role of a pupil. The Folk Highschool animates and encourages the citizens to preserve objects of the cultural heritage and processes of their manufacture. Once again certain handcrafts have been brought back to life, we were able to see exhibited wooden shoes, wooden cooking utensils and dishes, wicker baskets, earthenware and other products made of clay as well as some needle-works, embroidery and knitwear. Several participants of the study circles acquired the designation "handcraft product". In the last two years more than 200 persons have been involved in the study circles, and certain activities were attended by entire families! The classrooms are now embellished with the products of their hands. They are also active in preparing new exhibitions which will take place by the end of the school year within the framework of the Lifelong Learning Week and at the event the Images of Bistrica's Farm Estates. The products of this local handcraft have become a part of an appealing tourist offer.

<< Back