Awards to groups for outstanding achievements in lifelong learning

Preserving Heritage study circle from Piran

(Mentor: Natalija Planinc, expert associate: Polde Belec, 38 members in five groups of the Preserving Heritage [Ohranjanje dediščine] study circle)
Proposer: Špela Pahor


http://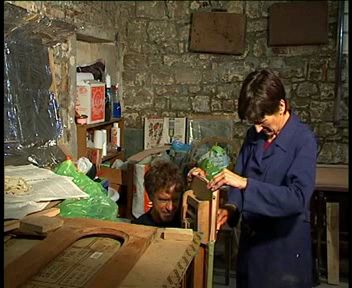 "Our door is always open. The people of Piran like to come by, including older women and tourists... Many people call us 'the polishers'. It seems to everyone such a little gem, such a shift in the quality of life in our town."
What things can develop from a simple 'polishing-up'! In Piran they have shown that this can generate a real 'restoration explosion'! But three years ago, when the first two study circles began under the mentorship of a retired teacher, Natalija Planinc, they could not have known this. At that time they began to learn the first steps, primarily stripping off the unsound and crumbling paint, varnish and other coats on pieces of furniture that they had found in the family estates, in cellars, lofts or in old commercial buildings, and for this reason their name of 'polishers' stuck. They studied under the leadership of an experienced craftsman, retired restorer and model-maker Polde Belec. They became familiar with the properties of materials, methods of cleaning, removing parasites and more. And before they got to fixing and replacing broken parts with new ones, they also had to learn about the basics of artistic styles, become familiar with the residential culture of individual periods, with former craft workshops in their local surroundings, and they also learned a great deal through reading literature, exchanging experiences and visiting and arranging exhibitions. The mentor has a wealth of experience, with 15 study circles operating under her leadership over 8 years. All of them have been well attended, undoubtedly in part because Natalija Planinc is an artist in personal relations. It is important that she knows how to motivate both the members of the group as well as the local community, how to obtain sponsors and collaborators, how to attract media attention and how to make a major cultural event out of a presentation of activities. The enthusiasm for work in the circle was so great after two years that the original members founded the society Anbot, and now this society has itself spawned two study circles. The Piran 'polishers' include people of different ethnicities, different professions and foreknowledge, and they belong to different generations, but they cooperate successfully, although they had to learn everything from scratch. At first they had a shortage of space, but two successful years drew public attention, so that now they have their own headquarters, a genuine little restoration centre and meeting place in Župančičeva Street, which was kindly put at their disposal by the Piran businessman and gallery owner Gašpar Mišič.
<< Back