Awards to groups for outstanding achievements in lifelong learning

German language study circle at the University of the Third Age in Ljubljana

(Mentor: Vida Danica Belšak, 9 members)
Proposer: Society for Education, University of the Third Age in Ljubljana


http://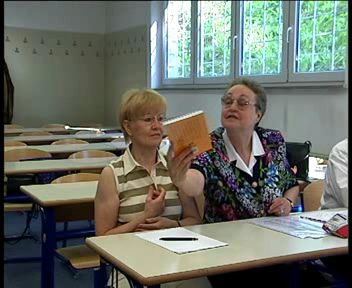 "There's nothing we wouldn't do, nothing is difficult, although sometimes we have to repeat the verbs and declensions ..."
The members of this successful circle had already studied German in secondary school, but then let this knowledge lapse. Now that they have no day jobs to worry about, they have been meeting up - some of them since 1991 - and working to revive their knowledge, build on it by familiarising themselves with German literature and culture in general, and to enrich others with this knowledge. The study circle functions under the aegis of the University of the Third Age in Ljubljana. The members themselves plan their courses, select their subjects and study materials and agree on the progress and frequency of meetings. The basic learning method is conversation, and they also make use of audio and video recordings and performances (dialogues and dramatisations). They borrow material from the Goethe Institute. Now that their knowledge is fairly advanced, they are also involved in translating, preparing study materials and even writing poems based on a German original. In their studies they use German newspapers and books, whose content or extracts are presented at circle meetings, with ensuing conversations on topics of interest, and together they go to see occasional German films, they visit the German reading room, travel and more. The culture of learning enriches firstly themselves, both as individuals and their relations within the group, but the knowledge they have acquired is used increasingly to help others. Many of them offer study help to their grandchildren or acquaintances, while also working with civil society organisations as translators, and they share their knowledge with others in articles published in the University newsletter and other publications. In order to help teachers and children with special needs, they translated the work Hyperactive child: psychomotor therapy (2002); they also translated and published The birth of intelligence: how children learn to think. On the initiative of students at the Faculty of Education in Maribor (during a joint visit to the pharmacy in Olimje) they put together a Slovenian-Latin-German dictionary, Medicinal Herbs (Zdravilna zelišča). The assignments they set themselves are not easy, but once they make up their minds, they persevere and are happy with their achievement! They have become more self-confident, open and understanding, their curiosity has expanded, they have developed critical thought and honed their sense of beauty, especially the beauty of language.
<< Back