Challenges:
Ageing population.
Economic crisis and searching for business opportunities (also cross-border).
Information and guidance.
Inclusion of marginal target groups into non-formal education and learning.
Use of ICT.
Cooperation and networking.
Intergenerational collaboration.
Opportunities: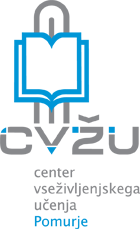 Lifelong Learning Centre Pomurje (LLC Pomurje) was established with the aim to promote and increase the participation of the population in this most north-eastern region of Slovenia in various forms of lifelong learning. LLC Pomurje is operated under the guidance of Murska Sobota Adult education centre and consists of 5 guidance centres and 10 lifelong learning dislocated points all over the region. All services, conducted in LLC and its dislocations are free of charge with special emphasis given to information and guidance services and the inclusion of marginalised groups which form a considerable part of population in this area.At the same time, activities are intended for young adults and all those who would like to upgrade their knowledge and skills as to become better equipped for (self)employment and professional work.
Headed by: Murska Sobota Adult education centre (LUMS)
Partners: Gornja Radgona Adult education centre, Lendava Adult education centre, Razvojni center MS, Območna obrtno-podjetniška zbornica Murska Sobota, Razvojna agencija Sinergija, Športno izobraževalni center Ljutomer

Information and guidance (ISIO): Guidance centre of Murska Sobota, Slomškova ulica 33, Murska Sobota
Dislocations: Lendava, Ljutomer, Gornja Radgona, Beltinci and mobile dislocation
Lifelong learning points (TVŽU): Beltinci, Martjanci, Puconci, Kuzma, Turnišče, Lendava, Gornja Radgona, Ljutomer, Pokrajinska in študijska knjižnica Murska Sobota, Območna obrtno-podjetniška zbornica Murska Sobota
Some results (1.1.2008-31.8.2012):
No of participants in LL points: 6,358
No of clients in guidance centres: 6,735
Source: Odpiramo poti do znanja : Zbornik centrov vseživljenjskega učenja Slovenije (2012)
Additional opportunities:
PoMoč

(Aids and supports for Pomurje region residents - free of charge)
<< Back